[sc name="ductQuote"]
Commercial Duct Cleaning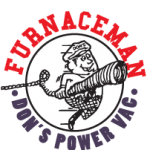 For over 50 years, Don's Power Vac has provided professional commercial duct cleaning for heating, ventilation, and air conditioning systems (HVAC) cleaning throughout North America.
Call Don's Power Vac for your free Commercial Duct Cleaning Quote at 780-447-1133
If you own or rent a commercial building, you're probably familiar with the term "sick building syndrome". People who spend time in "sick buildings" tend to experience a higher than average number of physical ailments like colds, flu, dizziness, asthma, headaches, and difficulty concentrating. Symptoms generally improve when people go on vacation and return when they return to work.
commercial duct cleaning can reduce Sick Building Syndrome is usually traceable to poor indoor air quality. In many cases of high employee absenteeism, poor indoor air quality is the real culprit. A thorough cleaning of your building's heating, cooling, and ventilation systems can improve indoor air quality (IAQ)and reduce absenteeism. As an added bonus, heating and ventilation systems cleaning can reduce your heating and cooling costs.
Types of Commercial Duct Cleaning
Standard Duct Cleaning.
This method cleans the duct system using forced air and a strong vacuum. The standard method is recommended for removing dust and debris from the ducting systems of brand new buildings only. Once a building has been occupied, moisture in the air causes the dust to stick to the interior of the ducts, so the building must be cleaned using a more advanced technology. This is a basic type of commercial duct cleaning
Power Whip/Viper Method.
This method is suitable for most cleaning tasks. A power whip cleaning tool is used along with forced air and vacuum to dislodge dirt and debris from the ducts. All commercial, industrial, and institutional cleaning involve either the Power Whip or Pneumatic Brush method (described below).
Pneumatic Brush Method.
This is the most advanced of the three commercial duct cleaning methods, giving superior cleaning results. In the pneumatic brush method, hi-tech rotating brushes and a strong vacuum are used to clean the ducts. The use of this technology is common in hospital and institutional cleaning, where very high standards of cleanliness are required. White-glove testing of the ducting should detect no dust residue after this method of cleaning has been used.
Don's Power Vac is experienced in all types of commercial duct cleaning, including:
• heating, ventilation, and air conditioning duct systems cleaning
• boiler cleaning (fire box area and most types of heat exchangers)
• fume hood system cleaning
• heating and cooling coil cleaning
• exhaust stack cleaning
• dryer room vent cleaning (lint removal for increased dryer efficiency)
• roof air handling unit cleaning
• dust removal for sandblasting contracts
• asbestos removal cleanup
• mold testing and remediation
• indoor air quality testing
Don's Power Vac backs up its professional duct cleaning services with:
• Video inspection
• Certificate of completion
• Photos of ductwork before and after cleaning
• Testing to confirm cleaning to specifications (Level 1 or Level 2) of the NADCA standard.
For more information on heating and ventilation systems duct cleaning in apartments, hotels, shopping centers, and all other types of commercial buildings, contact us at 780-447-1133. We are oilfield commercial duct cleaning specialists!
Back to Main Duct Cleaning Page. Home Pros Group Members Are professional Commercial Duct Cleaning Specialists.