[sc name="furnaceQuote"]
Edmonton Furnace Cleaning Company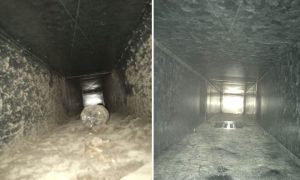 Many homeowners in Edmonton do not think about furnace cleaning, but it is very important to maintain this vital appliance. Your furnace system not only provides you with heat on cold days but is also the main component for indoor air quality is your humidifier and air filters are attached to it. Edmonton furnace cleaning Company Home Pro's Group will help you maintain your furnace system by keeping it clean, changing your filter, and educating you on indoor air quality products.
Change your furnace filters every month
Make sure to check your furnace filter every month during the heating season and every month of the year if you also have air conditioning, a clean filter isn't just for removing dust it also protects your furnace from debris getting into your blower and potential he damaging the furnace system.
Not all pricing is equal between Edmonton furnace cleaning companies
When you contact an Edmonton company make sure their pricing includes all registers supply and return, the furnace, and all the ducting. Be aware of the bait and switch routine but it's commonly used with Edmonton furnace cleaning companies, they will advertise a very low rate to get into the home and then the additional charges start adding up.
Make sure your company is NADCA certified.
Furnace cleaning companies are not regulated as to who can work on your furnace system, look for companies that have NADCA certification which stands for national air duct cleaners association, these companies spend extra money to have their technicians trained and certified to make sure they know what they're doing when they're cleaning your furnace system.
4 Benefits of regular furnace cleaning and maintenance
Winters in Edmonton can be cold and challenging, not something you want to take on without the help of your furnace and fireplace to keep your home warm and cozy this year. in order for these appliances to continue working at peak performance, you need to perform seasonal maintenance. Here are few of the benefits of regular Furnace Cleaning and furnace maintenance tasks.
1. Extend the life of your heating equipment
when a technician performs a cleaning and service function of your furnace a wide range of testing and inspections are completed. during this time minor adjustments Army that allows the furnace to run better and longer. Your furnace system is full of moving parts, cleaning these parts and inspecting condensate drains, testing your furnace is electronic ignition system, and other components will help the appliance from meeting an early retirement. Make sure that you are regularly changing your furnace filter, this is one of the main reasons for breakdowns.
2. Fewer and less expensive repair bills
Emergency service calls can be very expensive, when a technician has to come out in the middle of the night to repair your furnace it's going to cost you approximately double what it would if they came out during the day. Having your furnace system regular checked over by a qualified technician allows them the opportunity to diagnose problems that might occur in the near future and take care of them now. Not only is emergency service very expensive it is also very inconvenient and could cause many more problems if nobody is home to notice that the heat is not working. This could lead to frozen pipes and floods.
3. Lower utility bills
it stands to reason if your furnace and air conditioning system are serviced regularly, have frequent filter changes throughout the year that you're utility bills are going to be lower. Furnaces that are dirty have to work much harder than their clean counterparts, this means you're going to burn more electricity and fuel to get the same results. Edmonton Furnace Cleaning isn't just about improved air quality, it is also going to make your system work more efficiently and thus cost you less money in utilities.
4. Home Safety
You might be asking what does Edmonton furnace cleaning have to do with the safety of my house, well it has a lot to do with. Your furnace likely burns oil or natural gas to provide you with heat, if any of the gas components are not functioning properly it can create a very dangerous situation such as a gas explosion or carbon monoxide poisoning. When technicians look over your furnace they will look at its heat exchanger to make sure there are no visible cracks that can leak carbon monoxide in your home, and they will make sure that the ignition assembly are all clean and working properly.
Remember in Edmonton Furnace Cleaning is a very important task but it is not the only heating Appliance but you have to maintain. You might have a fireplace that is either gas or wood burning, either way, these need to be checked up regularly as well. You also have a hot water heater that needs to be maintained to ensure its proper function.
Book your Edmonton Furnace Cleaning appointment today by calling Home Pros Group Edmonton at 780-455-1188. The professionals at Home Pros will not only clean your furnace but inspect and test different areas of indoor air quality and consult with you about the results.
Home Pros Group Location
Home Pros Group 16690 113 Avenue Northwest Edmonton, AB T5M 2X3
Hours: Mon-Fri 8 am to 5 pm
(844) 925-5776 or 780-455-1188
Home Pros Group is centrally located in Edmonton Alberta Close to major attractions such as the West Edmonton Mall and the Edmonton Zoo. Edmonton is the capital city of Alberta and the gateway to Northern Alberta home of the oil sands. This positions Home Pros Group in an excellent location to provide service throughout the Province.
Driving Directions To Home Pros Group
YEG To Home Pros Group – Get the Home Pros group from the Edmonton International Airport or yeg you have to get on ab – 2 North and follow it to ab – 216 West until you get to Highway 16, where you will turn East. Next, take the hundred and 170th Street South exit until you get to 111th Avenue where you will head east. From there you will turn on to 166 A Street heading north and then make a left onto 113th Avenue.
Edmonton Zoo To Home Pros Group – To get the Home Pros Group from the Edmonton Zoo use the following directions: Take Bonavista Road Northwest to 142nd Street, follow 142nd Street Northwest and 111th Ave Northwest to 166a Street Northwest continue on 166a Street Northwest where you will turn left onto 113th Ave Northwest.
West Edmonton Mall To Home Pros Group –
Head West on 87th Ave Northwest turn right onto 178th Street Northwest to continue straight on 178th Street Northwest until you make a right hand turn onto 95 Ave Northwest, next you'll turn left onto 170th Street Northwest turn right onto 111th Ave Northwest and continue on 166 A Street Northwest until you get to 113th Ave.
Check us out on Facebook, Twitter, Instagram, Google+
Spruce Grove Furnace Cleaning – Sherwood Park Furnace Cleaning – Leduc Furnace Cleaning – St. Albert Furnace Cleaning – Morniville Furnace Cleaning – Fort Saskatchewan Furnace Cleaning