Edmonton Duct Cleaning
Furnace And Duct Cleaning – Cleaner air is only a phone call away! Harmful contaminants such as dust, dirt, bacteria and pet dander, collect in your home's air ducts over time, lessening air quality and, encouraging illness and allergies. Home Pros is known for its carpet cleaning services, but we also provide professional duct cleaning services that provide you with cleaner and healthier indoor air. Our NADCA trained and skilled technicians use only the best truck mount equipment available in the air duct cleaning industry. Enjoy a cleaner and healthier home after Home Pros completes your residential air duct cleaning.
No Nonsense Straight Forward Furnace And Duct Cleaning Pricing
Are you tired of the hidden costs? Edmonton furnace and duct cleaning packages that only include a certain number of vents in the home can go from a $99.00 dollar special to over $600.00 once you start counting the vents and other charges that are in the "fine print".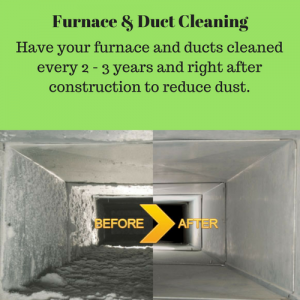 This is what it includes
Single furnace system – includes the furnace, all ducting hot and cold, all registers, HWT and one dryer vent = $285.00 + GST. If the furnace has A/C please add $65.00.
Double furnace system – includes the furnace, all ducting hot and cold, all registers, HWT and one dryer vent = $445.00 + GST. If the furnace has A/C please add $65.00 per furnace.
Other Services Available:
Duct Sanitizing – $59.00 when completed with full furnace system cleaning
Vac-U-flow Cleaning – $89.00 when completed with full furnace system cleaning
Home Pros Professional Furnace And Duct Cleaning Process
Step One: Protect the customer's home. Home Pros knows that your home is usually the largest investment that you will ever make and you have hired us as an investment into your home. Home Pros will take all necessary precautions to protect your home by first laying out drop clothes from the entrance to the furnace room, we then put up corner guards that will prevent any damage to your walls and we will put plastic tape over all the registers on the floors and walls, this increases our suction and protects the vents from damage.
Step Two: Cleaning your heating, ventilation, and cooling (HVAC) system. Our professional staff will hook up our powerful truck-mount vacuum system to your furnace system using a bypass cleaning method that isolates and protects the system from damage during the cleaning. We then remove your vent covers and insert a power-driven whip system to clean each of your ducts. The whip loosens stuck dirt and other build-up that is then removed by blowing powerful compressed air through your air ducts.
Step Three: Next, our technician's will power whip the main trunk line forcing all the contaminants back to the truck mount vacuum. This vacuum removes the dislodged contaminants and disposes of it in a hopper in the truck. The last step involves cleaning your vent covers and putting them back in place. Once done, your homes air ducts will look great and be as healthy as possible!
The combination of whipping, compressed air, and vacuuming cleans your air ducts better than any other method.
Step Four: Inspection Time. Our high-tech video inspection and cleaning system provide us and you the customer with the ability to effectively inspect duct systems for cleaning and diagnose problems in difficult to access HVAC components. Video inspection of all jobs quickly allows us to precisely determine contamination levels, sources of airflow problems and locate cracks or leaks. It also allows the customer to see the completed job before and after cleaning. This method is to ensure that you and the technician know exactly what is inside your system.
Your Satisfaction is Guaranteed
Home Pros prides itself on providing homeowners with the absolute best Edmonton furnace and duct cleaning services offered. We guarantee a professional method to every air duct cleaning assignment. Your furnace and duct cleaning service is carefully premeditated and closely managed from start to finish to make sure you get the most from your investment. We guarantee you will be absolutely pleased with our duct cleaning services every time or your money back.
To book appointment for furnace and duct cleaning please call 1-844-9-ALL-PRO. Proud Home Pros Company.