[sc name="hvacQuote"]
Do You Need A New Furnace? Contact Our Furnace Sales Specialists Today!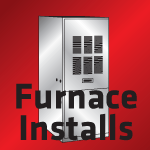 Furnace Sales – Is it time for a new furnace? You've been putting it off for a while now, but after many costly repairs, it's most likely time to replace that old tired furnace with an upgrade. A new furnace is typically going to be much more efficient than old one, with proper maintenance it is also going to last much longer and not require as many repairs. Many furnace companies now offer different financing options make installing a new furnace system very affordable.
What are the benefits of installing a new furnace?
More efficient. New furnace system is going to be much more efficient furnace but it's been operating for 15 years. Technology has come along way so that more of every dollar we spent on fuel is actually used for heat and not just wasted on flue gas. Older furnaces operated at 65% AFUE (annual fuel utilization efficiency), that means 35% of every dollar spent on heating was simply wasted. New furnace systems must be a minimum of 80% AFUE and some even exceed 90%, this is a huge cost saving and better for the environment. A new high-efficiency furnace system can pay for itself in only a few years.
Furnace Sales – Benefits of Purchasing A New Furnace
Improved airflow. New furnace systems have variable speed fans to provide more consistent airflow for your home. Improved airflow not only regulates temperature in your house, it also helps remove indoor air pollutants, creating a healthier varmint with the help of an improved deer filter system.

Quiet operation. New high efficient HVAC systems are typically much quieter due to sound absorbing materials and direct drive fans so that you feel improvement not hear it.

Improved accessories. When you're installing a new high-efficiency furnace system you also have the option of adding on improved accessories such as humidifiers, air filtration system's and programmable thermostat to save you money.

Extended warranties. The systems today are much more reliable, build with better materials, And improved designs. This all leads to manufactures being able to offer extended warranties on their furnace system parts. Heat exchangers have a lifetime warranty on some brands and other components are often warranty for 10 years or more.
Were called Pros for reason. Here at Home Pros we only team with the best in the business, our partner's technicians are professionally trained and earn technical certifications in HVAC training before they ever go to your house. This training isn't a one-off thing, regular HVAC industry courses are a must for any home pros professional. These ongoing courses provide the technicians with the ability to repair and maintain many different furnace brands, as well as installing new furnaces.
Furnace Sales – So is it time to replace that furnace?
If your furnace is more than 20 years old then it will absolutely be a great investment to replace it with a high-efficiency system. If your existing furnace system is between 10 and 20 years old, replacement options should be factored because of the price of gas or if you were spending a lot of money to maintain your furnace. A new high-efficiency furnace system is going to save you money every month in fuel costs, and if you're regularly paying a lot for repairs then the new system is going to save you money with its extended warranties.
Choose the right company when considering furnace replacement
Having your furnace system installed by an unqualified person cannot only be dangerous but can also reduce the efficiency of the system by as much as 30%. Furnace system that has not been installed correctly isn't going to operate properly, this will reduce the efficiency and the systems life span.
If a company wants to team with Home Pros they must offer a 100% satisfaction guarantee on all of their services. We know Who the right companies are and will help you get in touch with them.