Get Furniture Cleaning Services At The Same Time As Your Carpet Cleaning Service!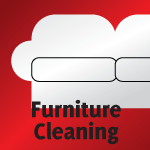 Furniture cleaning is one of the most often overlooked items in your home that requires regular cleaning. Are kids, pets and us are constantly sitting on our furniture, Things get spilled, the oils off of our skin, pet dander, dirt, and debris are constantly being ground into your furniture.
At some point, you're not going to have enough couch cushions to cover all the stains on your upholstery. Masking odors on your furniture with an air freshener are not the way to go, using the same deep cleaning method with hot water extraction your furniture cleaning can make your upholstery look years newer and smell a lot better.
What type of furniture do you have and what is the proper way to clean it?
Furniture comes in many different shapes and sizes as well as different types of fabrics. When a carpet cleaning professional first arrive at your home they need to assess what type of fabric your furniture is made out of before they start cleaning it. Different fabrics require different types of cleaning. Once a cleaning method has been decided on, an application of a special furniture and upholstery cleaning product will be pre-sprayed on to the furniture. This product is developed especially to break down embedded soils from the material. If there are areas that require special attention they will get a gentle brushing to help spread the cleaner into the fabric. After the cleaner has been given a little bit of dwell time the hot water extraction cleaning method starts. This is the same powerful cleaning method that is used on your carpets, just different tools are used on your furniture. With the proper skill set and the proper equipment, your furniture can look like new for years and last much longer.
Protect your furniture from future damage
Now that you have your furniture looking fantastic you're going to want to protect it with an application of furniture protector. These protectors will form an invisible layer of protection between the fabric and whatever gets on it. This will guard against future spills and repel soil, pet dander, and oils on our skin. by applying this treatment your furniture is going to last much longer and stay much cleaner.
Regular Furniture Cleaning Helps Stop The Spread Of Germs
Remember, just like your floors and countertops in your home your furniture and carpets are home to dust mites, germs, and other microorganisms. It's very important to keep your furniture clean to help stop the spread of germs.
Call Home Pros Group today at 1-844-9-ALL-PRO for a free carpet cleaning estimate.
Cleaning or Upholstery Cleaning