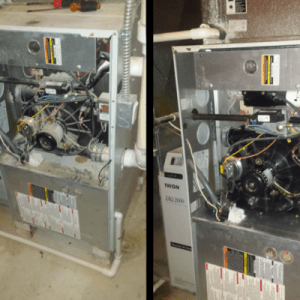 Homeowners are starting to realize the importance of Furnace Cleaning Services on a regular basis, but you probably still have questions on what is done and how. We've compiled a list of reasons of why you want to perform regular furnace and duct cleaning. this list comes from questions that we've received over the years about the service.
Let's start with the first and most often asked question of:
why do I need my furnace cleaned?
Your furnace is hands-down the most important Appliance in your home, most houses in Alberta are heated with natural gas and forced air furnace without it you wouldn't be able to heat your home, air condition your home, humidifier home or filter the air in your home. The fact is that over time your furnace is going to be contaminated with dust, allergens and other debris such as drywall dust and construction materials. Your furnace system is a high-tech Appliance, there are many sensors and components that require regular upkeep when these sensors build up with dust they do not work properly and can cause your furnace to shut off. A high efficient furnace will have a condensing coil in it which is located above your furnace's blower, if the condensing coil becomes plugged it reduces the amount of airflow that can pass over your heat exchanger which ends up costing you money with an inefficient furnace.
The furnaces who should be cleaned every year, the ductwork in the home should be cleaned approximately every two to three years depending on your situation. It should be cleaned at least one right after Construction to remove all drywall dust, construction material and other debris that might have fallen into the ductwork. The main reason though is drywall dust, contractors will use the furnace fan to help speed up the drying process when they are mudding drywall, this leads to a large amount of dust on your furnace blower fan and condenser coil. This dust will also circulate throughout your house every time your HVAC system is turned on, creating an endless amount of dusting. In older homes we've seen as much as 3 to 4 inch of dust buildup in the ductwork, this dust is full of bacteria, allergens and sometimes mold. If you have anybody with allergies or asthma they are going to notice an immediate difference from a good air duct cleaning job.
Who should I hire for furnace and duct cleaning?
There are many companies that claim to be professional furnace and duct cleaners, unfortunately, in Leduc Alberta, there are no laws that prevent anybody from starting the duct cleaning company, this leads to a lot of unqualified people showcasing themselves as professionals. always make sure whatever company you decide to hire has the proper certifications such as NADCA and the proper business license, insurance, and workers compensation coverage.
How are the furnace and ductwork cleaned?
The process is relatively simple, trained technicians will bring high-pressure air and high-velocity vacuum system into your home, this is usually provided by a truck mounted system. They will also use special tools such as the Viper air whip system, a brush system, rags, skip lines and more. They should be covering all of your vents with either a magnetic or plastic material so that they can increase the amount of suction to each meant as they are cleaning, this will also prevent any air backflow that could feel your house with dust. One of the reasons to watch out for powerful truck-mounted vacuum systems is that they have the Velocity to suck up all the dust and not be overpowered by high-pressure air. Portable vacuum systems are sometimes used and can be adequate as long as the technician takes all the steps to prevent any backflow of the air.
When your furnace system is cleaned alone, the blower compartment, condensing coil, furnace cabinet, burner assembly all need to be clean. when you add duct cleaning to the mix all registers both Supply and return must be cleaned, once these are cleaned the main ductwork trunk lines usually located in your basement are fully cleaned back to the high-powered vacuum system.
If you are looking for Leduc Furnace Cleaning services please give us a call.