Today well doing an estimate for commercial furnace cleaning I got a chance to see some really cool custom sheet metal work add a company called Customtec Metals. This company normally does custom-made siding as its main line of work but the owner Dennis handling has an artistic flair and creates some really amazing pieces of art that you might like for your home. Check out some of the photos I took, truly mancave material!
Secret Fridge That Looks Like Professional Toolbox
So you have that really cool man cave in your garage and you're looking to add a beer fridge But can't find one that matches your custom interior, Dennis might have the answer for you. check out this very cool tool chest, look closely, you can actually open this bad boy up and grab a beer as it is really a refrigerator. This is one custom sheet metal project I might have to get, would look great in my garage.
Custom Metal Cladded Door That Looks Like An Old School Bank Vault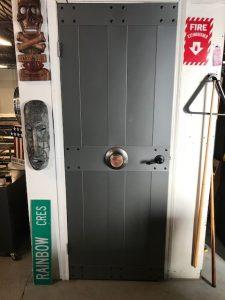 How about this custom bank vault door, it is actually made out of metal and has a dial in the middle that spins like an old style safe, the latch will open your door, that is once you put in your secret combination. This looks so much better than a boring old wood door going into the house.
Custom Sheet Metal Vintage Looking Gas Tanks
I have always wanted a custom old school gas pump for my garage, but I thought it was out of reach due to the huge expense and rarity of these pumps. after talking to Dennis I realize that this is a project that is definitely within reach for my garage, you can pick up a custom antique gas pump globe off eBay for about $150 plus shipping and Dennis will match up a sheet metal gas tank to go with it at a fraction of the cost the purchasing a true vintage gas pump.
Custom Signage Made From Sheet Metal, Aluminum, And Copper.
Maybe you are looking for a custom-made sign made out of sheet metal, aluminum or copper, give Dennis a call and talk to him about your ideas. These things look really cool up close and definitely will add Flair to your garage.
Secret Office Fridge That Looks Like A Filling Cabinet
Have a look at this custom mini fridge, stick this in your corner office at work and your boss will think it's just a filing cabinet but open it up it is truly a functioning fridge. I'm not going to tell you to fill this thing with beer as that would be unethical but who am I to stop you either.
Custom Beer Bar Made From recycled Aluminum Corrugated Siding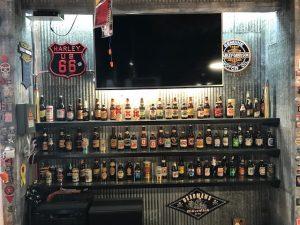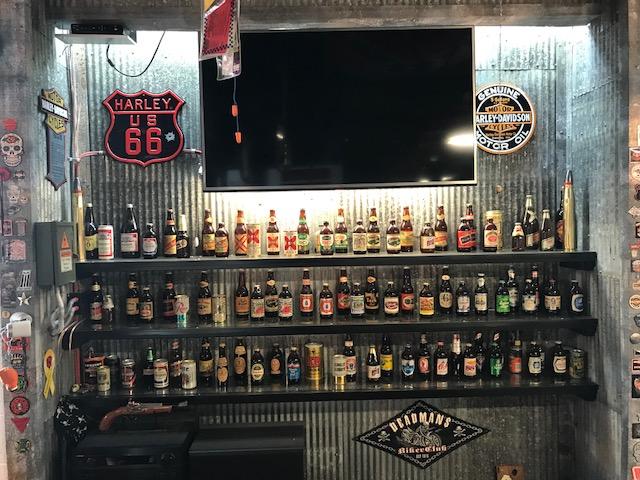 And finally check out this custom vintage aluminum corrugated metal that was turned into an antique beer bar, complete with a flat-screen TV and a couple signs it looks pretty cool and will be right at home in my garage.
I got a lot more than I bargained for today when I went in to do a quote here, I hope I get the job just so I can check on Dennis's custom work once more. if you want to contact him the company name is Customtec Metals and their phone number is 780-481-9871, Or you can visit their office at 15818 – 131st Ave in Edmonton and see some pretty cool stuff for yourself.
Thanks for the tour Dennis I'll definitely be stopping by again.