Home Pros Group Weekend in Banff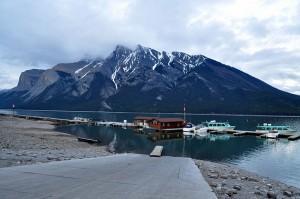 Well you can't work all the time, this weekend we decided just that and booked it off to Banff. We set up our site at the Two Jacks Lakeside camp ground and what a great place to hang out. We had hot dry weather and didn't have to test our dated tent trailer for leaks but we kept busy preparing all our food over the camp fire. Well ok I did cave and made a trip to Banff every morning for my Tim Hortons coffee, this worked out pretty cool for me when I was next in line to Kelly Hrudey, who was on his way to a golf tourney.
Lake Minnewanka in Banff
On our second day my wife and I went over to Lake Minnewanka that is a glacial lake just outside of Banff, where we got to see some very agile mountain sheep as they ran down a slope that I would be a scared to ski down. Amazing how close they let you get to them as we witnessed some other tourists getting within a couple feet of them. This is surely one the the most beautiful places on the planet with every direction looking like a postcard. Lake Minnewanka is a hot spot for scuba divers from around the world as they get the chance to dive around the deserted resort that was flooded in 1941 with the addition of the newest dam that supplies the town of Banff with Hydro-Electric power.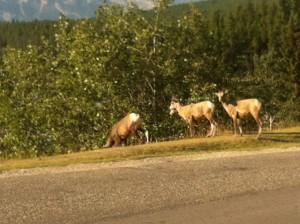 The same day we also took a drive up Mount Norquay and enjoyed the views of the town of Banff from the top, this place is one of the major ski resorts in the winter but provides great hiking and biking trails in the Summer months not to mention the views of Banff year round.
Heading Home From Banff
It was a awesome weekend with great friends, good weather and beautiful scenes in every direction but it was times to go home. The work is piling up as the fall quickly approaches and the kids go back to school, people are getting their carpets cleaned and the furnace system checked out before the winter catches up with us.
Thanks Banff, see you again soon!