How To Bake Chicken Wings
Chicken wings are a classic family favorite, especially when it comes to watching sports or a good movie. If you are a health-conscious family but doesn't like to deep fry your chicken wings but still want one that is crispy then you have to try this recipe. In this recipe, we're going to be using a honey Sriracha sauce for the wings but you can really apply it to any sauce recipe.
The secret on how to bake chicken wings and get a good crispy finish lies with the secret ingredient, baking powder. Yes, you heard me right, baking powder creates the magic in this recipe.
Here is what you're going to need:
2.5 lb of fresh or thawed chicken wings
one teaspoon salt
1 teaspoon pepper
1 teaspoon paprika
1 teaspoon minced garlic
2 tablespoons of baking powder
1 tsp sesame oil
one tablespoon of apple cider vinegar
a half cup of honey
and a half cup of sriracha
Preparation
Preheat your oven to 425 degrees Fahrenheit, placed in foil on a baking sheet, and place a wire rack on top of that.
Directions
Mix salt, pepper, paprika, baking powder together

Toss Wings in dry seasoning mix

Space Wings evenly on the wire rack and place in the oven.

Cook for 20 minutes, turn and continue cooking for an additional 20 minutes.

Mix Sriracha, honey, sesame oil, vinegar and garlic in a mixing bowl.

Toss the wings in the sauce and plates back on the wire rack.

Bake for an additional 5 minutes.

Enjoy!
Over the years we've tried this same baking technique with many different sauces and it works flawlessly every time for perfect directions on how to bake chicken wings.
So the next time that you want a fun family dinner that is much healthier than deep frying your chicken wings give this recipe a try. It is also a fan favorite when you have a group of people over to watch a sporting event.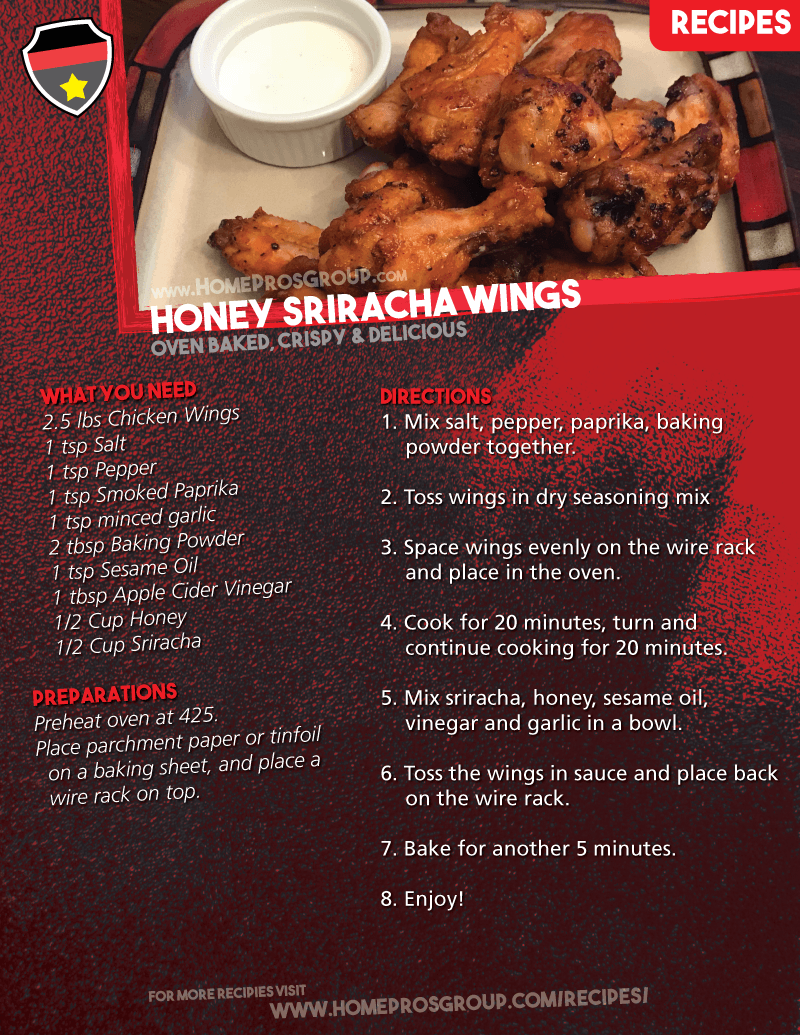 To try some of our other recipes go here: Recipes
See more ideas on our Pinterest Page here: Pinterest