[sc name="iaqQuote"]

We spend almost all of our lives inside up to fives time more then we spend outdoors, and to make certain our family members remain healthy, we must concentrate on indoor air quality today more than ever before.
Pollution in your home may be up to 10 x greater than it is outdoors. That is why you need to be pro-active in managing the quality of the air you inhale inside your home. Pollutants within your air may give rise to allergic reactions or trigger asthma attacks and are a consistent reason behind illness, particularly in young children and elderly.
Call And Book 780-455-1188

Breathe Much easier… Enhance Your Home's Indoor Air Quality
Pollution and impurities within your house's atmosphere are inevitable, but that does not mean there is nothing that can be done about it. Healthy, clean air in your house is achievable with Home Pros's Indoor Air Quality solutions.
Obviously, we offer a number of options that will help accomplish far better quality of air in your house. Probably the most preferred ways to improve your house's indoor air quality is by using our duct cleaning services from an Home Pros professional but this is not always the best answer. Additionally we provide a selection of various air quality products and services that will help you breathe clean, fresher air within your home.


Expert Advice and Help
The exact remedy suited for you and your loved ones is determined by your needs and the house. Don't assume all indoor air quality product or services are suitable for each and every house. However with the advice from the professionals at Home Pros, you will have the tools you need to enhance your home's indoor air quality – guaranteed.
Please check the links below for more information on any of the Indoor Air Quality products that we offer.
Furnace air purifiers are an effective way to fight air quality concerns in your residence. Your HVAC duct system will distribute the air within a home many times each hour. Therefore using a duct type air purifier will simply and efficiently clean much more air.
Air Filtration Systems
Proper air filtration is among the most critical elements of indoor air quality. Air filters eliminate unwanted contaminants from your air including pollen, dust, mold, bacteria, and much more to safeguard your overall health.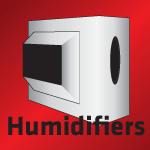 Humidification Systems
Maintaining humidity levels in between 30 and 50% will keep your house comfortable and healthy. Increased levels can encourage the development of harmful bacteria and mould, while reduced humidity ranges can irritate breathing and cause dry, damaged skin.