Tile and Grout Cleaning
Tile and Grout Cleaning Specialists
The biggest breakthrough in TILE & GROUT CLEANING history! Call Home Pros Group to discover exactly how your floors ought to truly look…
When having a true professional clean and restore your hard surfaces, choose the  company with experience in cleaning, sealing, and restoring your hard surface to better than new condition.
Whether its ceramic tile and grout you need to have cleaned, travertine, marble, limestone, we have done it all hundreds of times!  The best part is that its affordable.
The first thing we do is determine what type of hard surface we are cleaning.  This is important because we need to choose the proper cleaning solution, proper ph levels, and proper cleaning protocol.  If this is not done, the results will be compromised.
After those have been properly assessed, the pre-treatment will be applied to the floor.  After 10 mins dwell time, we will bring in a low speed floor scrubber and gently scrub the floors to loosen and begin to emulsify the soil build up.
The next step, and most important, is the hot steam pressure wash and extraction of the hard surface.  One tool actually delivers 1400 psi of 240 degrees steam to the floor and simultaneously extracts the solution to the truck.  During this process, the floors ph levels will be returned to a neutral state using our ph balanced textile rinse.
Generally, after this process, the hard surface is left to air dry and takes approximately 30 minutes to dry. (some grout lines and natural stone can take up to 24 hours to dry).
If a sealant is chosen, we will professionally apply the sealer of your choice and dry it by hand.  The result is a beautifully cleaned and restored floor!
This is the way tile and grout cleaning works: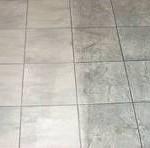 Why waste more time and energy "trying" to do your own tile and grout cleaning areas using the old style method? Home Pros Group offer's fast, effective, and inexpensive solutions that work on almost any hard surface: natural stone; travertine; brick; concrete; and stucco. We can do it all — vertical or horizontal.
We specialize in tile and grout cleaning, however we are able to perform a lot more. Here is a list of additional surfaces we can clean with this specific equipment.
Residential Tile & Grout Cleaning
Kitchen floors
Entry ways
Hallways
Counter tops
Shower enclosures
Garage floors
Driveways
Pool decks
Patios
Brick Landscaping
Stucco
Commercial Tile & Grout Cleaning
Lobbies, entry areas
Offices, hallways
Restrooms
Kitchen areas
Walkways
Counter tops
Concrete Areas (interior & outside)
Stucco
Plus much more!
Call Home Pros Group at 780-747-1275
Thank you for visiting our tile and grout cleaning page!