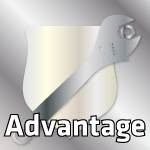 Our Advantage Protection Plan is the perfect fit for the customer searching for what our Essential Plan provides and more.
As low as $89.99 per visit, you will be safeguarding your home comfort equipment with yearly furnace and/or air conditioning servicing, which ultimately will assist in managing the expense of keeping your home comfortable, healthy and safe, year-round.
The Advantage Safeguard Plan provides 10% off parts, 24-7 emergency support and free service on one accessory such as a humidifier (parts extra). In addition, you will receive a 15% discount off regular duct cleaning services. (Must be booked at the same time)
Call And Book 780-455-1188
Advantage Protection Plan details:
Planned yearly Home Pros accurate tune-up and safety examination for each piece of equipment protected using the Home Pros method (individual appointments created for each furnace and air conditioning unit)
Guaranteed 24-7 emergency support (This is only offered to members of a Home Pros Group Safeguard Plan)
10% discount for parts
Added accessory (humidifier, air purifier or air cleaner) parts extra
25% discount for after hours labour
10% discount for senior citizens
15% discount off regular furnace and duct cleaning service (Must be booked at same time)
Our Advantage Protection Plan is the high-value low-cost option for the home owners who wish to ensure the comfort and safety of their loved ones along with improved air quality by having the air ducts in the home cleaned. It is the ideal option for anyone interested in keeping their furnace, air conditioner, and/or other home comfort products in outstanding condition all year round.
Request a Protection Plan 
For more information, please give us a call at (780) 455-1188 or request a quote today.
For Emergency Service Call (780) 455-1188
Back To Home Comfort Safeguard Plans