$1659.00 Raised For Kids Forever!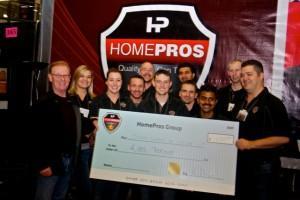 That was the final tally of the donations raised for Kids Forever. Way to go Ft. McMurray. Thank you so much for digging deep into your pockets for this very worthy cause. Your efforts will go a long way.
Jack Tobin from Kids Forever was on hand for the cheque presentation at the end of the show.
There were other big winners on Day 3 as well. Chris Dumonceaux won the Home Security System and Robbie Gouthro won the Bonus Draw of a Residential Maid Service package both valued at $500.00. Congratulations to both Chris and Robbie.
Also, we were proud to donate to the Fort McMurray Tourism Association a combination package valued at $1000.00 that included a Carpet, Furnace and Maid cleaning. Kallie Chartrand's name was drawn for this superior package. Congratulations Kallie!
Sadly, nobody won the $100,000.00 mega prize despite a remarkable number of attempts.
This weekend proved that Ft. McMurray knows how to host an event. The turnout was amazing. The variety of the fare that was being offered was outstanding. The response to our services and kind remarks from past clients was humbling.
Thank you to everyone who spent some time with us over the weekend. It was because of you this show was such a success. Look for us at the Fall Show and Market in September.
This is the final year for Kids Forever in Fort McMurray, there is one final golf tournament in the spring of 2015 and that will be the end of this great charity. It has been amazing teaming with Kids Forever during our time in Fort McMurray and we are looking forward to working with other great causes in the future that support our local community. Watch for updates here at Home Pros for the Spring Golf Tournament.