Our Lloyd Lake Saskatchewan Fishing Lodge Trip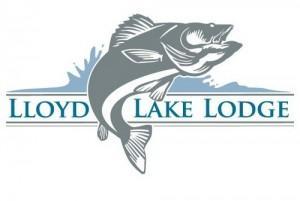 Wow was that a fun weekend! We just returned from Lloyd Lake a Northern Saskatchewan Fishing lodge where we had the chance to go after some amazing fish. We started our flyin fishing trip from Fort McMurray with Fort McMurray Aviation providing the transportation. Jay the pilot was fantastic! Once we landed we got our Saskatchewan fishing Licence's and a bite to eat (More about the food in abit), then it was time to jump in a boat for some amazing evening fishing.
Saskatchewan Walleye Fishing
Fishing for Walleye in Northern Saskatchewan is just amazing! Here are a couple of the beauties that we landed during the trip. Saskatchewan Fishing Lodge
Fishing for Walleye in Saskatchewan is amazing. Walleye are one of the most aggressively sought after game fish in North America. The white flesh is pristine, savory, and incredibly mild. The walleye isn't a 'pushover' either, offering both, anglers with lots of earned savvy, and novices alike, excellent fishing opportunity. The largest Walleye ever caught was 42′ and weighed in at 25 pounds, we never caught one that large this time around but we know he is in Lloyd Lake. During this first night of fishing we managed to pull in 38 fish in just over three hours. Not to bad for a warm up!
Lloyd Lake Lodge Saskatchewan Fishing Lodge
Good Friends, Good Fishing and Good Times! The Uniat brothers have been hooking walleye on Lloyd Lake for 25 + years. With the purchase of Lloyd Lake Lodge a Saskatchewan Fishing Lodge in 2011, their goal is to ensure the lodge is a world-class, all-inclusive, fly-in fishing lodge known for cozy cabins, fine dining and unreal fishing. I had the chance to visit this lodge about 15 years ago and the changes that Desi and Derek have made are fantastic. From the renovated cabins to the world class food Lloyd Lake is quickly becoming a preferred destination for both the serious angler wanting to catch the big fish and the family looking to create a lasting family memory.
Five Star Meals at a Saskatchewan Fishing Lodge  – YOU BET!
Lloyd Lake Lodge Saskatchewan Fishing Lodge
Saskatchewan Pike Fishing
Fishing for Pike in Northern Saskatchewan is a lot of fun, these fish are huge! Here are a couple that we landed.
Fishing for Pike at Lloyd Lake is exhausting so prepare yourself for never ending fishing action. The northern pike is the most aggressive and most easily caught species in our area lakes, as it feeds on almost anything at any time. Spring pike fishing is some of the most exciting, as the northern have completed spawning and are feeding up after their vigorous spring ritual. (The second picture is not from this fishing trip but I had to include it due to the shear size and it is the only picture that I have of catching the larger fish.) 🙂
 Lake Trout Fishing in Saskatchewan Fishing Lodge
Well we had a great time the first day trying to go after the large lake trout, the weather and the gear were not co-operating. We did manage to land one Laker for shore lunch.
When we arrived back at the lodge for supper that night Desi and Derek found out that we only got the one Lake Trout they made plans to take us back out to Big Fish Lake and personally guide us to the area's where we would catch the monster lake trout the area is known for. The next day we loaded up the gear and headed for big fish lake once again and once again the weather was crazy, the wind was really blowing but Derek was not leaving that lake until we caught the big lake trout we were looking for. I was lucky and got to go out first and with the proper direction and gear I was able to land this beauty: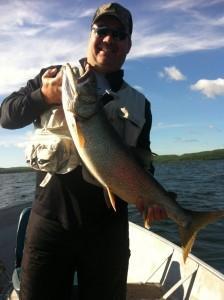 The weather continued to pound on us for the rest of the morning until we decided to go in to shore for another great lunch and it only got worse as the afternoon went on so we had no choice but to pull up anchor and head for the lodge. Korey didn't get his second chance for the big laker's but a bet is a bet and I will gladly except the victory of largest fish and allow him to get a frame made up with this picture and the phrase "Greatest Fishermen I Know" so that he can proudly mount it above the fish tank in his office.
We didn't want to but it was time to leave, at least we got to do it in stye. Thanks to Jay for the great flying experience.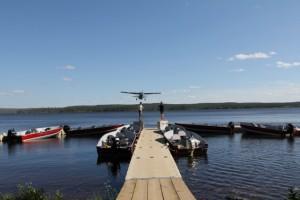 We would like to thank Derek and Desi for the amazing food, lodging, fishing and friends from our now annual trip to Lloyd Lake Lodge a great Saskatchewan fishing lodge