Wildfire Just West of Stony Plain
The biggest and scariest news this week 4 residents of Parkland County specifically the Tomahawk area was a 2200 hectare Wildfire burning out of control that forced evacuations for many people out of their homes. Residents located within Highway 22 and Range Road 63 and between Township Road 510 and 524 are the homes directly affected. The good news is that firefighters have been able to stop the spread of the Wildfire but it is still burning out of control leaving the residents out of their homes.
"We have not had to house any individuals at this point," Parkland County Mayor Rod Shaigec said. "This is not a very highly densely populated area. This is largely an agricultural community, thankfully."
Tomahawk is a hamlet located 62 km West of Stony Plain.
With the efforts of the fire crews cutting in dozer lines, water bombers hitting the most critical areas, and Saturday nights rainfall hopefully the fire will be brought under control. The ground has a lot of peat moss so the fire will sit in the ground for a long time, which means the fire crews will likely be in the area for a week or two. It is not known at this time how the fire was started.
Reduce Your Use Contest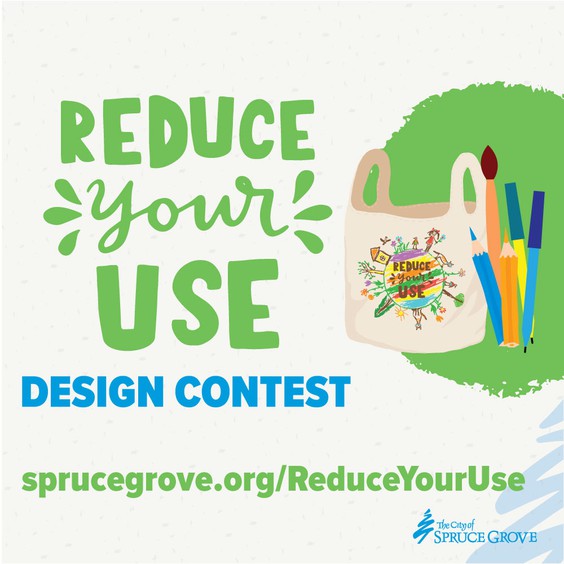 The city of Spruce Grove approved a new bylaw at the end of February that will ban the use of single-use items such as plastic straws, plastic checkout bags, and single-use foodservice wares in an effort to reduce the number of plastics in our landfills. The ban comes into effect on January 1st, 2022.
In an effort to get the word out the city came up with a contest entitled "Reduce Your Use" which is a competition but has an environmentally friendly spin to it. While the city's main focus will be to communicate with business owners And helping them with the transition they also thought this would be a fun way to interact with the community, and build support for the by law.
The contest involves young people aged 13 and under submitting artwork that shows people how they can "reduce your use" By cutting down on single-use plastics in our community. The contestants are asked to include a Spruce Grove flair on their artwork.
"We thought there was no better way to do that than to engage with our youth. A lot of students 13 and under learn a lot about waste in their school curriculum and so we wanted to make some sort of link to the school curriculum," Van Gaal said. "The design(s) we choose will be printed on a reusable bag and distributed at different events throughout the city this summer."
For more information on this contest go to:
www.sprucegrove.org or email [email protected]
The Edmonton Oilers make the playoffs!
This week seen our Edmonton Oilers make the playoffs with what looks like a very strong team that can make a real run at the Stanly Cup. Conner McDavid is doing what he does, and that is amazing us at every turn. He hasn't gotten the magical 100 points in 56 games yet but sitting at 96 with 4 games to go it looks all but completed.
I can't wait for the playoffs to start and I don't care who we face in the first round be it Winnipeg or Montreal I think we have the team to beat, who knows only 8 points back and a game in hand over the Leaf's maybe we finish in first?