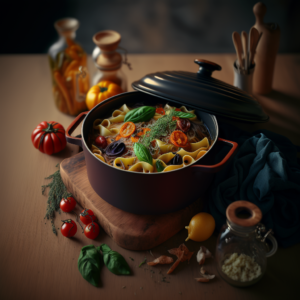 Are you looking for an easy and delicious meal to make on a Monday night? Look no further than our One-Pot Pasta recipe! This simple dish is perfect for busy weeknights and will please the whole family.
Our recipe is made with only the freshest and highest quality ingredients, including spaghetti, onion, garlic, canned tomatoes, chicken or vegetable broth, and grated Parmesan cheese. Plus, you can add in your favourite protein or vegetables for an even more satisfying meal.
One of the best things about this recipe is that it's made in just one pot, making cleanup a breeze. Add all the ingredients to the pot, bring to a simmer, and cook for 12-15 minutes. That's it! You'll have a delicious and comforting meal ready to enjoy in just a few minutes.
Don't let Monday night stress you out any longer. Try our One-Pot Pasta recipe and make dinner time a breeze. Order now and enjoy a satisfying and delicious meal tonight!
One-Pot Pasta Ingredients
1 pound spaghetti or other pasta
1 onion, diced
3 cloves of garlic, minced
1 can (14.5 oz) diced tomatoes
4 cups of chicken or vegetable broth
1 teaspoon of dried basil
1 teaspoon of dried oregano
Salt and pepper to taste
1 cup of grated Parmesan cheese
2 tablespoons of olive oil
Optional: diced cooked chicken or sausage, or vegetables such as bell peppers or mushrooms
One-Pot Pasta Instructions
Heat the olive oil in a large pot or Dutch oven over medium heat. Add the onion and garlic and sauté until softened, about 5 minutes.
Add the canned tomatoes, broth, basil, oregano, and optional protein or vegetables. Bring to a simmer and let cook for a few minutes.
Break the spaghetti in half and add it to the pot, making sure to submerge it in the liquid. Bring to a boil and then reduce the heat to low, cover, and let simmer for 12-15 minutes, or until the pasta is cooked to your liking. Stir occasionally to prevent the pasta from sticking together.
Once the pasta is cooked, turn off the heat and add the grated Parmesan cheese. Stir until the cheese is melted and the sauce is creamy.
Taste and adjust seasoning with salt and pepper as needed. Serve hot and enjoy!
Optional: top with fresh basil or parsley for garnish.