Space For Edmonton Entrepreneurs
Are you an entrepreneur but it's currently building their business while working out of a coffee shop or a home office? You might want to read this story about a co-working office space where you can pay to rent daily, weekly, or monthly. Edmonton has a large small business base and this trend seems to be catching on quickly. https://goo.gl/bwze9C
Happy Birthday Captain Conner
Happy birthday Connor McDavid, the Edmonton Oilers traveled to Las Vegas as they faced The Golden Nights in a very exciting game. Connor reached his career 200-point on his 21st birthday with 2 assists and Darnell nurse scored in overtime for a 3-2 win. https://goo.gl/sjSswP
Man Drive's on Yellowhead with Dogs on Truck Bed Cover
The man who drove down yellow hat at speeds of 110 km per hour with his two dogs cleaning to his truck bed cover will not face charges. After an interview with the driver that explains the dangers of having his dogs on the truck bed cover and seeing that the dogs were not injured the Alberta SPCA is not laying any charges. https://goo.gl/qrd1RY
Sherwood Park Skate Park To Open In March
Sherwood Park skaters and BMXers are getting excited with anticipation for the Boneyard which is an indoor skatepark that will cater towards bikes, skateboards, and scooters. The park will be over 7,000 square feet and have a rental shop and concession stand. It is expected to open in March 2018. https://goo.gl/MKL8gq
Attack After Eskimos Game
The attack that happened September 30th during an Edmonton Eskimos game where a man who is accused of stabbing in Edmonton police officer faces five counts of attempted murder and other charges is fit to stand trial, but the case will be delayed another 30 days for a mental health assessment. https://goo.gl/97Drpc
Hawaii Officials Mess Up Big Time!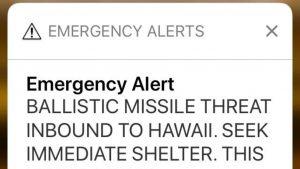 Officials in Hawaii apologize as they sent an emergency alert in all caps was sent saying "BALLISTIC MISSILE THREAT INBOUND TO HAWAII. SEEK IMMEDIATE SHELTER. THIS IS NOT A DRILL" For a heart-stopping 40 minutes everyone on Hawaii was in extreme panic, making phone calls and saying goodbye to loved ones. Hawaiian officials say the alert was sent when an employee hit the wrong button during a shift change. https://goo.gl/LKm4hR
Chelsea Manning is Running For Senate
Former Army intelligence analyst Chelsea Manning is running for Senate in Maryland. Manning, a former Army private who was found guilty of leaking 700, 000 government files to WikiLeaks has now filed to run for Senate. Manning faced a 35-year prison sentence that was commuted by President Barack Obama in his final days of office, calling it " very disproportionate." https://goo.gl/z5Gs4q
Atlantic Canada Battered With Rain And High Winds
Atlantic Canada is in the middle of a major downpour that has led to flooding, mudslides and power outages. the heavy winds and rains have left many people in the Maritimes without power. total rainfall has exceeded 50 mm and some areas received as much as a hundred mm. this much rain and frozen ground means there is a reduced ability to absorb the water. https://goo.gl/vgmRd3
Did President Trump Give Hush Money To Stormy Daniels?
President Donald Trump's lawyers paid Stephanie Clifford otherwise known as Stormy Daniels a popular pornstar $130,000 so that she would not talk publicly about an encounter between the two at Lake Tahoe in 2006, only a year after he married the first lady Melania Trump. Both Donald Trump and Ms. Daniels deny that it ever happened. In true Donald Trump fashion, he said: "trust me, you wouldn't be reading about it in the news, you'd be reading about it in my book." https://goo.gl/aRwUoK
Buy A Bucket Of Chicken With Bitcoin
Good news cryptocurrency fans, you can now buy a bucket of chicken with your Bitcoin. KFC Canada h announced that they would immediately start accepting Bitcoin as payment for a bucket of chicken and sell out immediately. https://goo.gl/T5Stxk