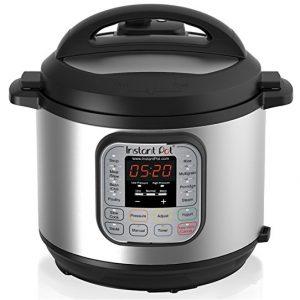 The instant pot is a 6 in 1 programmable pressure cooker, it combines with tasks of sauteing, Browning, rice cooker, steamer, slow cooker and of course pressure cooker. It produces amazing home cooking inconvenient fast way.
How is it possible for the instant pot so many things so well? Well, the answer is in the microprocessor that significantly improves its cooking abilities and results in all in a much safer fashion. Get offers 10 built-in programs that put your favorite dishes Within Reach at the push of a button, there are also 3 adjustable modes. if you're looking to make use of it slow cooker there are three temperature ranges included, there are also three different temperature ranges for sauteing or Browning. do you like porridge? Well, the instant pot allows you to wake up to Fresh make porridge every morning.
Advantages Of The Instant Pot
One of the biggest advantages of the instant pot is how much it reduces the cooking times and the energy consumption. This is one of the friendliest kitchen appliances you will ever use, there's almost no noise and steam is only released at the end of the cooking cycle. You don't have to be afraid of using a pressure cooker anymore, the instant pot is extremely safe thanks to with microprocessor. The inner pot is made of stainless steel so you don't have to worry about any health risks associated with nonstick Coatings found on traditional pots and pans. It features a fingerprint-resistant brushed stainless steel exterior, and when you receive your instant pot it will come with English, French, Spanish and Chinese instructions.
When I started looking at replacing my slow cooker is when I discovered the instant pot, I wanted something that had a stainless steel interior and found that with this Appliance. I've never used a pressure cooker before, I was always a little bit scared after reading a lot of the horror stories of things going wrong. The more I started to study the benefits of pressure cooking though I wanted to really give it a try, the instant pot gave me that opportunity and made me feel safe using it at the same time.
My First Recipe Using The Instant Pot
The first thing that I attempted to cook in the instant pot was frozen chicken breast. That's right, I used frozen chicken with onions, seasoning and a can of Rotel. 25 minutes later I was delighted with the most tender, moist shred with a fork chicken that I've ever had, we made chicken tacos and I was hooked.
How To Clean The Instant Pot
cleaning the instant pot is extremely easy, you simply remove the inner stainless steel pot wash it in the sink or in a dishwasher, wipe the interior cover clean using soap and water and that's it, put it back up in the pantry until you're ready to use again.
Conclusion
After using the instant pot for the last two years we have found numerous recipes online and have tried a lot of them. I like to use it for porridge in the morning, making roast beef, and my all-time favorite goulash. I am sure after you have a chance to try some of the different recipes available for the instant pot you will be hooked also and it will quickly become your favorite kitchen appliance. For more information go here: